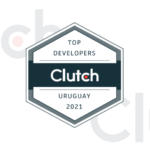 Clutch Names Effectus Software as Uruguay's Most Outstanding App Developer for 2021
According to recent studies, the mobile application market is expected to generate a whopping $935 billion in revenue by 2023. The massive growth comes as businesses and organizations think of ways to connect with their customers and launch their mobile endeavors.
We at Effectus Software, want to help you conquer the daunting mobile landscape and bring your dream apps to life. Headquartered in Montevideo, Uruguay, our team doesn't stop pursuing innovation and great results.
Those great results are the reason why we're here today. In their latest research, Effectus Software was hailed as one of the country's leading service providers on Clutch!
For those who don't know, Clutch is an independent B2B review and rating platform that helps millions of browsers worldwide. Each year, the site holds an awards cycle to empower and celebrate the most dedicated talents from the different B2B industries.
It's a massive honor for us to be officially named as Uruguay's finest application development company on Clutch!
"This award means a lot to our company, mainly because it reaffirms that we are working and moving in the right direction, and our clients feel that way through their reviews." — Chief Executive Officer of Effectus Software
Without the empowering support and feedback of our clients, this amazing recognition wouldn't be possible. Thanks to their encouragement and confidence, Effectus Software continues to welcome incredible opportunities. We owe our success to you!
"Not only do they do very high-quality work but the team is very capable of rolling with quick changes in requirements, which is a huge need in the software startup world. I haven't run into a challenge yet that I haven't been unable to take to them and come back with a solution." — Owner, Teachery
"Their overall quality was very high. They were task-focused. They've facilitated development on two projects and their work was very solid. We've had a lot of success." — Senior Producer, Digital Tech Agency
Got an idea in mind? Bring them to life with Effectus Software. Send us a message today and tell us what you need.