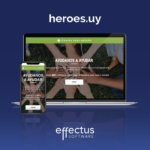 Heroes in COVID-19 Times: Nurses and Doctors
Who are the heroes?
Health care workers are soldiers on the front lines right now. Comida Para Héroes, a local initiative aims to support doctors and nurses during these extremely rough times by providing them with lunch meals that are donated by different members of the gastronomic sector.
We are extremely grateful for their effort and conscious about their situation, knowing they lack time for themselves to prepare a healthy, nutritive lunch. We need them psychologically and physically strong, and we can help.
Effectus Software has decided to take part in this and contribute by developing a web page that allows anyone to easily donate money to finance the lunch boxes.
The web also allows users to donate to other causes such as assisting the elderly in vulnerable situations and helping children in critical contexts.
We should emphasize that while older people are at the highest risk from COVID-19, we need to act in solidarity to prevent the further community spread of the virus.
By donating lunch boxes we can prevent them from circulating unnecessarily, avoiding putting them at risk of contagion.
In the beginning, the initiative will provide them with lunch boxes, but will later seek to provide psychological support and entertainment via technological platforms.
It is also possible to donate lunch meals for children that live in critical contexts.
Several meeting spaces where they were given nutritive meals have been temporarily closed to avoid the expansion of the virus.
Comida Para Héroes aims to somehow recover these spaces without violating the sanitary rules and recommendations stipulated by the government and to provide lunches to the children of Uruguay that are in this situation.
Remember, you can make a mountain out of a molehill.
Donate now: www.heroes.uy