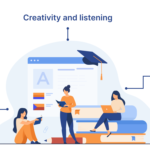 What it Takes to Be a Good Product Manager: The Keys You Need to Know
Do you want to know everything about being a good Product Manager? Keep reading!
From an early age, we want to be recognized. When you ask a child what their greatest desire in life is, they probably aspire to have the most visible position in their area of interest. For example, many kids want to be CEOs of their favorite video game companies, such as Activision Blizzard, Capcom, or Nintendo. After all, they do all the work. Right?
Generally, CEOs are the recognized people behind each launch. They give interviews and explain all the details of the new projects. Maybe that's why kids want to become CEOs. However, some figures are invisible to consumers, but they are the ones who make sure that everything works as it should. One of them is the Product Manager, the key to the success of all companies, especially software development companies.
The role of the Product Manager is indispensable in the market because this career breaks with the false belief that if you have a good idea, success is assured. This is a mistake!
In the past, there have been several "revolutionary" proposals that promised to be a boom in the market. However, they had problems in development due to planning failures. A good PM could have avoided these problems. So let's dig a little deeper into the role of a Product Manager.
What is the role of a Product Manager?
A Product Manager is a triple mediator. When a company launches a product, it must try to strike a balance between the following three variables:
Product development

. When developing software, there are certain limitations to take into account. We could define this as feasibility, which is a concept that helps us to know what objectives we can achieve. In general, the main drawbacks may be time constraints, lack of knowledge, limited budget, and inability to reach agreements. It's essential to consider all these sub-variables to avoid complications.

Consumer needs

. Of course, the development of a product must always satisfy the demands of consumers. Therefore, a professional must be constantly aware of what his target audience is looking for. The PM will even have to make a market analysis of competing companies to ensure the company is offering more value.

The reality of the company

. Sometimes the ideas of developers or creatives are excellent, but they are not the same as those of management. Ultimately, they will decide the path the product will take. A good Product Manager must know how to explain the virtues of making a particular decision.
An example to understand PM mediation
Suppose a software company plans to launch a dating application, where the company's managers allocate a development time and budget for certain functions. However, in the middle of the development, an unexpected event occurs.
The marketing team has realized that there is a competitor already doing the same thing as them, so the product cannot be an imitation of what already exists. What they need to do is to substantially modify the work program, to incorporate a feature that adds value.
For example, the creative department could suggest that the dating application should incorporate interest filters. This innovation will seek to improve the final value of the software to satisfy consumers' desires. To do this, employees will have to learn how to implement it.
This development will take time, which will force them to delay the launch or increase the workload. Also, they are going to need a larger budget, which means that they now have to get the support of the company's managers.
The Product Manager will be in charge of achieving harmony between all these variables to obtain a product that satisfies all parties.
What key traits should a good Product Manager have?
Here are some traits and skills that every good Product Manager needs:
Technical knowledge

. You should domain tech language to be able to talk on equal terms with programmers. For example, you should know different programming languages and be aware of software novelties. This way, you will be able to propose improvements to each project and understand every barrier or issue that the team could face, at least in an abstract way.

Market skills

. This ability means that a good Product Manager must interpret the market to make efficient decisions. This strategic factor can make the difference between successful and unsuccessful software development.

Creativity and listening

. Sometimes, the Product Manager will have to convince people about the path to be chosen. In other cases, the PM will have to listen to various proposals from different people involved. The PM must also offer innovative and creative ideas that differentiate the software from the competition. If you get it right, the work will be harmonious. Thus, there will be no creative differences among the team that could ultimately reduce the quality of the final product.
How can you avoid becoming a bad Product Manager?
If you don't want to be a lousy Product Manager, follow these tips:
Organize each of the activities

. Software releases can be messy if there is no logical organization of the tasks. The Product Manager has to be aware of all the updates of each of the involved teams. They must also listen to the proposals, suggestions, and complaints of each person.

Recognize the feasibility of ideas

. Sometimes there are incredible ideas, but they cannot materialize. A PM should never completely discard a proposal but should know what the priorities are and which aspects can be secondary.

Find the best solution to launch the product

. A PM should never be egocentric as it is not about being right. Sometimes, you have to admit that other proposals are better because the main goal is to get the best possible product launch. It's important to find a way that everyone is happy and can contribute something to the final product.

Likewise, you also have to choose what is most functional for the proposed objectives. 
Product Manager: the key to obtaining a good product development
Product Managers may have an invisible role. However, they are essential for the successful development of all software in the market. Perhaps in the future, children will dream of becoming PMs in a software company.
You've already learned a lot about what a good PM should have. What else do you think Project Managers should consider? We want to hear you out!
Keep reading our blog.