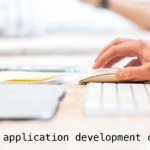 Mobile App Development Company: 5 Things to Consider Before Hiring
Mobile App
Mobile Apps are gaining more ground every year, and almost every company in the market has one of its own. The Mobile App industry is so profitable that this year's predictions say it will generate a revenue of $581.9 billion and by 2023 of $935.2 billion.
Now you can figure out why there is a mobile app development company in every corner. Having an app means nothing, companies need to make sure that their app has great UI and UX design and that is desirable by the clients. Here is where development companies come into the picture, in order to make this possible.
 Selecting the right company is essential. Customer feedback, app testing methods, and project timelines are fundamental aspects that should be considered when making the choice of which mobile app development company to hire.
Communication and Customer feedback
Excellent communication is always vital and in software development even more. Checking out previous clients' opinions can be really useful since you can have a clearer idea of the company's performance. You could benefit a lot from reading other customer feedback on their services. A good idea might be checking out some reviews of the apps the company has made to know how the users are responding to their work.
Portfolio and Experience
A portfolio is one of the first things you should ask for when contacting a mobile app development company. A portfolio will show you what type of applications they have worked on before and will allow you to check them out on the app store and on the play store. A portfolio will show you the development history of the development company.
 You can check how a company designs the UI, how the UX feels, and if it has the style you want for your application. A good portfolio will also explain in detail how's the company's design process and how well they cater to the customer's desires and challenges.
Mobile app testing method
Launching an app with lots of errors and bugs is a sure way to gain a bad reputation in the mobile app world. You should ask the mobile app development company what methods they are using to test your app. If a company doesn't test your app before delivering then let's call this a big deal breaker. A good development company will deliver a bug-free application ready for the market and to use.
Project Timeline
Most of the mobile app development companies work with many projects at the same time. You should ask how it will take for them to deliver your app in order to know if their times are compatible with yours. It is also essential to find out whether they have the necessary resources to develop your project, making sure they can quickly adapt if there are any sudden changes.
Country of Origin
With globalization and digitalization, hiring mobile app development companies from any country is now a possibility. But, you should consider a few factors before looking overseas for a company.
 Time zone; big time difference will make communication a little complicated. A time difference of 2-5 hours is reasonable and therefore ideal. A developer has to know the type of market they are developing for. If the company belongs to a culture that's significantly different from your target audience could make it difficult for the developer to design an appropriate UX.
For example, for the US market, Uruguay is a great country to look for mobile app development companies. Uruguay doesn't have a huge time difference (only 1-2 hours), and their culture is similar enough to the USA to make it work. Besides that, people in Uruguay usually have excellent English skills and perfect internet services that make them reachable at any moment in your own language.