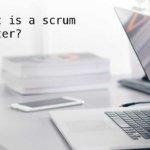 What is a Scrum Master? Easy Explanation
Scrum is a very effective project management framework that's being used by leading businesses to develop their software and services. This agile framework is based around small teams that deal with individual tasks until they're done, so they can then proceed to the next task, and behind all these teams, there must always be a Scrum Master.
What is a Scrum Master?
A Certified Scrum Master is the credential given to all professionals who decide to become scrum practitioners. During the certification process, the candidates will learn all about the values of the scrum methodology, teamwork and accountability, in order to make progress towards successfully accomplishing the goals of the project. Those professionals who have completed the certification can fulfill the role of Scrum Master. As mentioned above, one of the roles of a scrum master is to monitor the exchange of information to organize and managing team members so they can meet their goals.
The Scrum Master may have different responsibilities depending on the role it is playing. If it is part of the Product Owner team, it will: 
Ensure the goals, the scope of the project, and the product domain are fully understood by everyone on the team.

Finding and enforcing effective techniques to manage Product Backlog.

Make sure the entire team understands why it is essential to have clear Product Backlog items.

Make sure everyone involved in the project realizes the importance of product planning.

Provide the necessary information, so the Product Owner team knows why it is important to effectively arrange Product Backlog in order to maximize value.

Facilitate Scrum events as much as needed.
What is a certified Scrum Master?
A certified Scrum Master is someone who has completed professional training in Scrum methodologies. Their certification is proof that they studied how Scrum works and how to take advantage of it, and that they also can distribute that knowledge to other members of the Scrum so they can perform their work to the fullest.
These professional Scrum Masters understand more than anyone how this agile framework operates, and as such, they'll be qualified to manage the Scrum process. They can also take advanced courses to become Certified Scrum Trainers, so they can then train others to obtain their certification.
Someone who has a certification in Scrum methodologies will be more likely to get hired to manage agile frameworks, as they have verifiable proof that they have the right skills for the job. They will also have their career path expanded, as Scrum has been adopted by leading businesses around the world, and thanks to it, there's an increasing demand for Scrum Masters.
How to become a Scrum Master?
If a company wants to deliver products of the highest quality and value, they need to promote feedback, make constant improvements and provide their teams with the necessary help so they can deliver these products in short cycles, enable feedback, and make constant improvements. This is, in short, what a certified Scrum Master does. 
Here is an overview of the steps required to successfully become a Certified Scrum Master:
Step 1. Familiarize yourself with the basics of Scrum.
Before choosing to become a CSM, do the research, get to know all about the values and principles of Scrum. Read about the Agile Manifesto and watch the eLearning Series by ScrumAlliance videos. This way, you'll become more familiar with the concepts, beliefs, and best practices. 
Step 2. Choose a proper Certification program.
To become a CSM, you need to go through a certification program. The course will test your knowledge of Scrum. We recommend not skipping the very first steps 😉
Step 3. Take an in-person course.
Now it is time for you to enroll in an in-person course to start the certification process. Make sure to check and double-check all the requirements before applying. These courses generally have a duration of 16-hours spread across two days. 
Step 4. Schedule your exam. 
Most courses will allow you to schedule the time for your certification exam, the rule of thumb says to do this near the end of the course, but the decision it's entirely up to you. To approve the exam, you need to answer correctly 37 out of 50 questions. 
Step 5. Renew certifications. 
CSM requires you to renew your credentials every two years. If you want to continue working as a Certified Scrum Master, make sure to renew your certificate. All you need to do is pay a fee, although some programs do require evidence of what you have been doing.