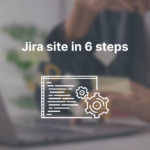 Create an awe tailored Jira site in 6 steps
Let's recap on Jira as a tool
Known as Jira project management tool and issue tracking software developed by Atlassian. It is designed and reassessed to help you strategically and reflexively plan, track, and manage work. 
Jira has expanded its capabilities to be accessible to everyone, becoming a must-use tool in lots of industries that are not just software boutiques.
Key features that are an asset in Jira 
Let's see what our Top-PMs Daniela Ruibal and Florencia Monzalvo have to say about them:
When it comes to Issue Tracking:
"It ensures that no task slips through the cracks, keeping projects on track and goals within reach." PM Daniela Ruibal
"It comes in handy to know who did the task in order to be aware of who has the knowledge needed to fulfil future gaps or challenges. This helps to save time and to keep a traceability of used knowledge. Since you can connect it to HubStaff, you can also co-track with clients." MSc Florencia Monzalvo
Let's go over Collaboration and Communication:
"It fosters a culture of teamwork, where ideas are shared, expertise is tapped into, and projects thrive. Transparency and visibility provided by Jira enhance collaboration, building trust and empowering us to achieve our best." PM Daniela Ruibal
"It's vital that description and acceptance criteria are succinctly explained to be easily understood by others. It becomes even more important when you're part of a diverse team [Devs, QAs, UX/UI Designers, etc]. Luckily, there are also features that allow you to comment, ask and share ideas so as to clarify or reach consensus." MSc Florencia Monzalvo
And what about Reporting and Analytics:
"It enables us to uncover insights and steer projects towards success. Also, customizable dashboards empower teams to stay on the loop, with metrics and information at our fingertips." PM Daniela Ruibal
"One of the tools I use the most within JIRA is the Sprint Burndown Chart. This report serves as a valuable tool for gathering data that can be used in both internal and external reports. It enables tracking of development speed and progress, facilitating the reassessment of achievable story points within each sprint.
Furthermore, the chart provides insights into various aspects such as the completed tasks in each sprint, the evolution of the sprint over time, the need for adjustments in estimations, and related information. This data aids in making informed decisions and accurately portraying the progress and outcomes of the sprints." MSc Florencia Monzalvo
Customization and Flexibility, be J-ready to tailor the tool to specific team and project needs. You can create custom epics, issue types, fields, workflows, and screens to match projects identity.
Agile Project Management, methodologies such as Scrum and Kanban can be used as a framework by offering boards, backlogs, and workflows. It lets you and your teams plan sprints, do follow-ups within an iterative and collaborative approach.
Integration Ecosystem, you can seamlessly merge it with development tools, version control systems, collaboration tools, such as: Zapier, GitHub, Slack, Bitbucket, and the like. 
We asked ChatGPT how to integrate Slack, and here you are: 
Install the Jira Cloud app from the Slack App Directory:
Open the Slack App Directory (https://slack.com/apps) and search for it.

Click on the "Install" button next to the Cloud app.

Choose the Slack workspace where you want to install the app.
Authorize the Cloud app:
After installing the app, Slack will prompt you to authorize it to access your workspace.

Review the permissions requested by the app and click on the "Authorize" button to grant access.
Connect Jira and Slack:
Once the app is installed and authorized, you need to connect your Jira instance to Slack.

In Slack, navigate to the channel where you want to receive notifications or create a new channel specifically for Jira updates.

Type /jira connect in the message input box and press Enter.
Authenticate with Jira:
Slack will display an authorization URL. Click on the URL to open the Jira authentication page in a new browser tab.

If prompted, log in to your account using your credentials.

Review the access requested by Slack and click on the "Accept" button to authorize the integration.
Configure Jira notifications in Slack:
Once the integration is authenticated, you can customize the Jira notifications you want to receive in Slack.

In the connected Slack channel, type /jira help to see a list of available commands and options.

Use the /jira notify command to configure which events you want to receive notifications for. For example, you can choose to be notified about issue updates, comments, or status changes.
Test the integration:
Create or update an issue in Jira to trigger a notification in Slack.

Check the Slack channel to verify that the notification appears correctly.
By following these steps, you can successfully integrate Jira with Slack and start receiving real-time notifications and updates from Jira in your Slack channels.
A powerful and versatile tool? You bet! It helps teams streamline their project management processes, collaborate, and enhance productivity.

Open Atlassian
On the top left corner there is a button with little blocks – click it!
After that, you have to click on the top right corner where it says 'Atlassian start' it has an arrow next to it.
Then go to settings on the top left, and click the first option, it says 'cloud administration'.
Go to products > add product > new site.
Final step is to choose what you want to add to it.
Most common is Jira Software, but you can edit that later.

Projects: organize and manage different teams, departments, or initiatives within your organization. Each project can have its own set of issues, workflows, and configurations.
Workflows: represent team's unique processes and stages of work. Define statuses, transitions, and conditions for issue progression.
Fields and Customization: capture relevant information for your projects. You can add and modify existing fields, and define field configurations based on your requirements.
Permissions and Security: control access to projects and specific features within Jira. Define roles and assign permissions accordingly to ensure data security and privacy.
Automation: set up rules and triggers to perform actions automatically, such as assigning issues, sending notifications, or transitioning issues.

There's a lot to explore. Here you'll find some tips to follow.
Atlassian launched Atlassian Intelligence, it combines OpenAI's language models to create tailored teamwork graphs and enables features like AI-generated notes, or rewrites responses to customers in Jira Service Management.
Let's Round It Up!
In conclusion, it's a great tool with different functionalities. It has revolutionized project management and issue tracking.
With Jira's robust features and AI's capabilities, teams can streamline their workflows, enhance collaboration, and gain valuable insights for success.
From intelligent automation to advanced analytics, Jira's power, according to our BPs, is a game-changer!
Embrace the synergy of AI and go-Jira to unlock new levels of productivity and efficiency in your projects. Elevate your team's performance with this dynamic duo!
In future blog and instagram posts, we'll explore specific strategies and techniques for using mobile web analytics to drive business growth and success.
So stay tuned, and don't forget to check out our other posts for more insights on digital marketing and data analytics!